From being a non-entity to having my own identity
28 May, 2021
Where it all began :
This happened in 1989 when I was working as an Application Engineer at Bhoruka Steel. My Reporting Manager, Mr. D Suresh Kumar asked me to watch a video called 'Successful Communication'. The video made me realise that the key to success, apart from competence, is confident, coherent communication.
Later in 1990, my Manager Mr. Navin Singh and Mrs. Indra Rani, the then HR Head sponsored me for a 3 day workshop titled 'Breakthrough in Communication' by Mr.Kichu Krishnan. The workshop had a profound impact on me and ignited within me a new dream. One fine day, I wanted to be a workshop leader like Kichu Krishnan. But I knew very well it was a distant dream as I had neither the competence nor the confidence to communicate. I also felt that l was paid to work and not talk, this belief also did not help the cause.
The big breakdown :
In 1993, I put in my papers at Bhoruka and during the sendoff party I was asked to share a few words As I stood up to speak before my colleagues and bosses, my mouth went dry and I felt I had lost my voice. I started sweating, my hands were shivering, my legs were shaking, and I was totally blank. As always, Mr. D. Suresh Kumar, my first and last reporting manager at the Refractory Division, came to my rescue. He stood up and said, "Arjun seems to have got overwhelmed with emotions. Please take your seat Arjun, we can understand".
I sat down and in that moment of embarrassment I vowed that I would never again speak in front of a group or in public.
Rising like a Phoenix :
As days went by, I realized that the humiliating incident on my send off day had not thwarted my dream to lead workshops. My dream was very much alive and thriving within me. The Universe took note of my deep desire and strong intention. It sent me a messiah, Mr.Ramlal, who introduced me to Toastmasters International ( TMI ), a Leadership and Communication organization
(more information available on the net). I joined Toastmasters immediately. Not only did I overcome my jitters and fears of public speaking, but I soon grew in the ranks and delivered speeches at various forums. In the last 25 years as a Toastmaster, I have addressed more than 50,000 people at over a hundred Toastmasters clubs including those at Infosys, Wipro, TCS, Schnieder, Wells Fargo, INTEL, IBM and even overseas at the Toastmasters clubs in the US and Singapore. Here is one such talk – Invest in your craft.
In 2015, Toastmasters International sponsored me for an educational trip to Las Vegas to learn the best practices of Toastmasters International. I attended various educational sessions and interacted with members across the globe from more than 100 countries.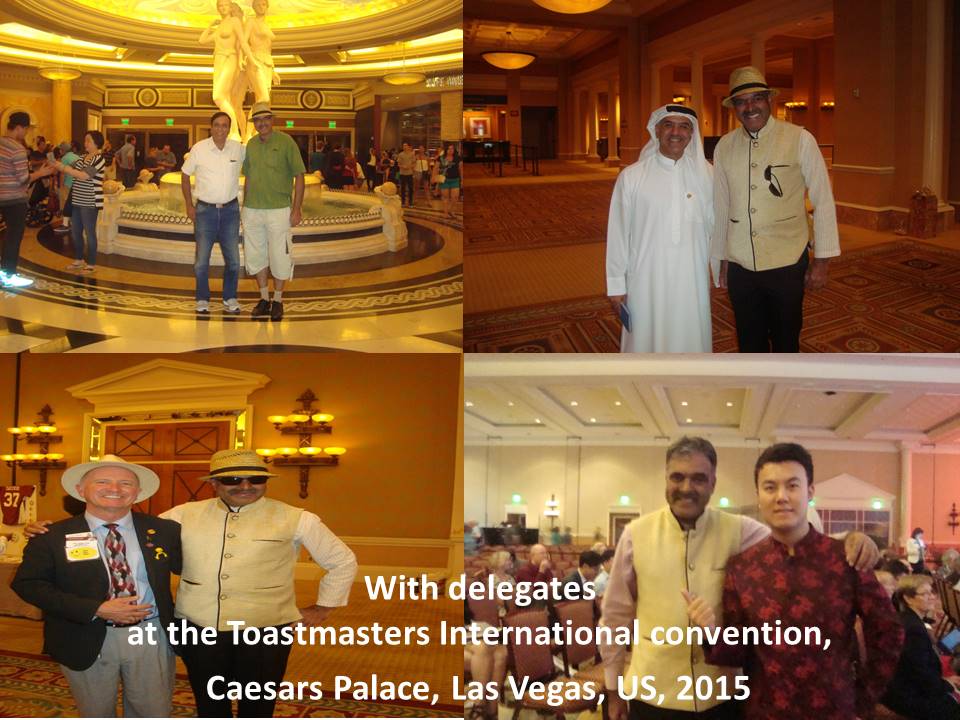 From being an iron filing to high carbon steel :
What I learnt at Bhoruka Steel Ltd was not just how steel is made but two invaluable life-long lessons :
keep bettering the best
think ahead
If you do these two, competition will not worry you, as you will have edge over others and you will be a market leader rather than being among the crowded followers.
The outcome of my journey which started as iron filing to high carbon steel is :
Selected by Mckinsey and Co from over a 100 applicants all over India for a six month assignment to develop a training module for Reliance infocomm to train more 10,000 sales managers.
Selected to imbibed, assimilated and delivered People Capability Maturity Model ( PCMM ) at Wipro's premium channel partner, Binary Systems Pvt Ltd.
Started my own venture called Assured State Management Services Pvt Ltd alongwith my brother Uday Bhaskar, to help organizations achieve their business goals using a unique ABC model :
- Achieving Business Goals by coaching leader
- Building leadership pipeline
- Creating human asset
Developed the 'Just Tap' model alongwith Dr.Sridhar Bachali, ENT specialist to help anyone from any walk of life to overcome fear, worry and anxiety in just 30 minutes over an online session
Designed, developed and delivered the E-Series Leadership Program, based on a workshop & assignment model
Developed the Win by Design workshop alongwith my mentor Mr.Kichu Krishnan, an accomplished Productivity Coach This workshop integrates the WorkSmart principles and practices and delivers to organizations ways to optimize productivity contributing to higher profits
Tall buildings need strong foundations :
From being a non-entity three and half decades back, today I have managed to create a identity for myself. The major credit for this goes to Bhoruka Steel Ltd and its leaders. At Bhoruka, it was like a doing an MBA without going to a B school. I had the great fortune of being groomed and inspired by some of the able leaders at Bhoruka. Here are some of them who have inspired, touched and made me what I am today :
D Suresh Kumar, G M Refractory Division
A K Barman, Head of Refractory Division
R C Purohit, M D
Balaji Singh, Sales Manager - Refractory Division
Navin Singh, Sales Head- Refractory Division
Indra Rani, Head H R
H G Gaur, Manager – SMS
Dilip Menon, G M Steel Plant
T G Prakash, Marketing Head
Last but not the least, I have utmost gratitude to Mr.S N Agarwal, Chairman and M D., Bhoruka Group of Companies, whose vision and far sightedness fueled and propelled many like me into the future with courage to encounter and wade through the stormy ocean of life.
As they say, it is not about how tall the building is but how strong the foundation is that determines the height and longevity of the building . For me, that foundation was laid by, Bhoruka Steel Ltd, without which I could not have stood and walked talk.
Bhoruka was not just a factory which I worked in but more of an institution where most important life-long lessons were learnt. To this great institution and its leaders who made me from being a non-entity to having my own identity ,
I take a bow.
Publisher: Arjun Raj Urs | Assured State Management Services